Esther Potter refers to Lambert as 'one of the most popular of the early writers' and that there was an 'enormous demand' for Lambert's books, quantifying 'phenomenal success' as 34,000 copies published of My Knitting Book with continental translations. Richard Rutt, writing 32 years later, expands slightly on Potter adding remarks about Lambert's knitting needle gauge, then finished the half-page section with a direct quote from Potter (un-cited by Rutt) appending 'We know no more.' Both Potter and Rutt extracted data from the preface of Lambert's books pulling out shop addresses and that she was 'embroideress to the Queen' with no further follow-up or investigation. Potter and Rutt both continue on to discuss a wider range of information about other successful authors of knitting books who published multiple titles and copies. Rosemary Mitchell lists Lambert, along with Agnes and Elizabeth Strickland, and Elizabeth Stone, as 'neglected figures' whose importance as non-fiction authors has only recently begun to be understood and appreciated. The prior difficulty of locating and cross-referencing primary source information resulted in little being known of Lambert even though she was a successful author, accomplished embroiderer and seemingly successful shop owner. A deeper dive into the data present in her books, combined with the increased availability of primary sources and library catalogues, has widened the body of knowledge of Frances Lambert.
Frances Lambert's death certificate lists her birth as 1799. I'm still searching for information on Frances' formative years. Currently the earliest pieces of evidence are entries in 1832 in a business directory, and in a newspaper advert, listing Frances working with her sister Catherine teaching drawing and fancy work from 9 St George Street, Hanover Square, London. The same year Catherine marries Charles Thomas Mears and moves to Broadway, New York, where newspaper adverts show Catherine continues to teach.
In 1835 Frances moves premises around the corner to 7 Conduit Street and drawing disappears from the adverts. Frances is sharing the property with O'Hara, a bootmaker.
On 30 April 1836 Frances Lambert marries John Bell Sedgwick (College Bedell, Royal College of Physicians) in Saint Martin in the Fields, Westminster. Frances signed the preface of her books "F.S." for "Frances Sedgwick".
In 1837 Frances is awarded a Royal Warrant for 'embroideress in general and fancy needle work woman in ordinary to her majesty'. Demonstrating her business and marketing acumen the business directory and newspaper adverts now included 'embroideress to the Queen and repository for fancy needlework' promoting the Royal Warrant and the increase in business trade from just teaching to being a retail outlet.
In 1838 husband John takes over the fire insurance for 7 Conduit Street in 1838, previously held in Frances' name.
In 1839 the business description expands to 'fancy needlework, fancy cabinet and upholstery work, English and foreign fancy goods and textiles for the work table' and relocates two streets south to 3 New Burlington Street in 1840.
In 1842 Frances starts her publishing career producing books on fancy work with the renown publisher John Murray, writing under her maiden name which she explains in the preface 'as being that by which I am more generally recognised in my avocation'. Her first book The hand-book of needlework (copy in the British Library) is not the first published book containing knitting patterns (Gaugain and Watts both published in 1837) however this is the first work to contain subject history and methodology in addition to patterns. Frances explains in the preface that the intention is 'to render them more generally interesting than a mere Manual of directions and examples'.
My knitting book parts 1 and 2 followed in 1843. Part 1 sold 34,000 copies by 1846 according to the 1872 edition of Dictionary of authors. Frances promotes her invention 'created some years hence' of a 'standard filière' or knitting needle gauge to measure the size of knitting needles, which she sells from her business premises and through other Berlin wool houses.
1844 sees the publication of Church needlework, My crochet sampler and Ladies' Pocket-Book of Knitting.
In 1847 Frances publishes Practical Hints on Decorative Needlework and closes the business premises in New Burlington Street.
In 1848 Frances publishes the second series of My crochet sampler.
In 1849 John retires from 20 years as College Bedell and purchases a property on Haverstock Hill, Hampstead in 1849.
The 1851 census shows that Frances' sister Catherine's American-born sons, Charles (13) and Thomas (12) Mears, are living with them.
In 1861 Frances and husband have moved to 1 St Andrews Place, St Marylebone.
In 1880 Frances died at home of 'hepatic disease ascites', on the 1st August, aged 81. No will or probate has been located for Frances, though likely as a married female in 1880 it was taken as granted that John immediately inherited.
In 1884 John married Louisa Moir (aged 54). Lousia dies the next year.
In 1895 John died, aged 86. John bequeathed £7000 to Frances' nephew Thomas Lambert Mears (now a lawyer in London) and £500 his cousin William Sedgwick (a lieutenant-colonel in the royal engineers). John bequeathed £300 to the Royal Institution, in aid of the fund for the promotion of experimental research. £200 to Middlesex Hospital. £100 to St. Marylebone Charity School for Girls. The rest of the estate was shared between Thomas and William, including 1 St Andrews Place. Thomas subsequently moved into 1 St Andrews Place with his family.
There is a photo of the Middlesex Hospital garden in February 1947 in an NHS publication with the description "The fountain in the garden was donated to the hospital by John Bell Sedgwick, who was deputy chairman, 1879-1895." University College London Hospitals NHS Foundation Trust, Inside Story January 2010, p8.
This is possibly a photo of John. It is of a "John Bell Sedgwick" held in the University College London Hospitals art collection.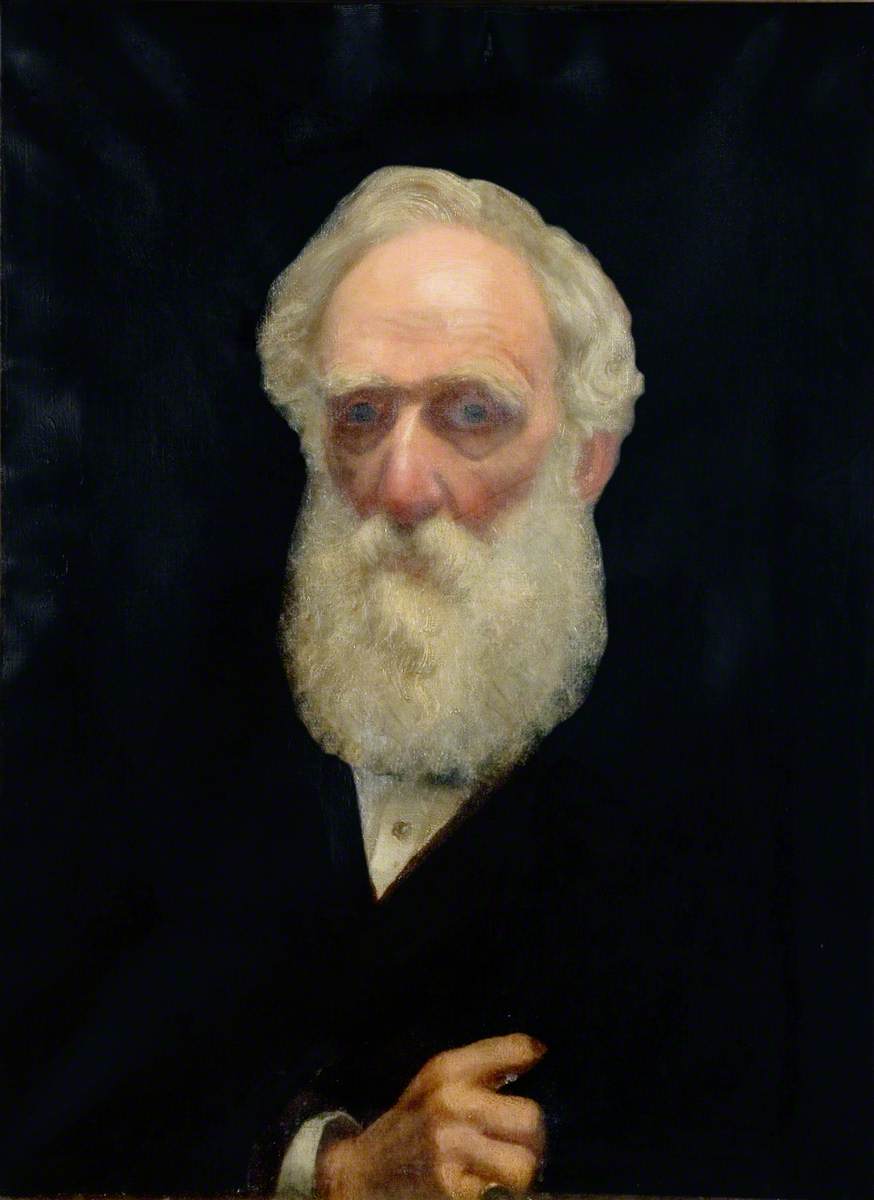 Full References
If you are interested in the full details of the research, with references, they are available in my MA History dissertation 'Knitting as a leisure activity for early Victorian middle-class women 1837-1851'.
Partial References
Potter, Esther, 'Knitting and Crochet Books'. 29
Rutt, Richard, A History of Hand Knitting. 113
Mitchell, Rosemary, 'A Stitch in Time?: Women, Needlework, and the Making of History in Victorian Britain', 189.
Copies of France Lambert's books
British Library
Lambert, Frances, Church Needlework, with Practical Remarks on Its Arrangement and Preparation (London, 1844), British Library
———, My Knitting Book, 4th edn (London, 1844), British Library
———, My Knitting Book, 2nd edn (London, 1846), British Library
———, Practical Hints on Decorative Needle Work, 2nd edn (London, 1847), British Library
———, The Hand-Book of Needlework (London, 1842), British Library
———, The Ladies' Complete Guide to Needle-Work and Embroidery (Philadelphia, 1859), British Library
Hathi Trust
University of Reading
Lambert, Frances, The Hand-Book of Needlework, 2nd edn (London, 1843)
———, The Hand-Book of Needlework, 3rd edn (London, 1843), University of Reading Special Collections
University of Southampton
Lambert, Miss., My Crochet Sampler, (London, 1846)
———, The Hand-Book of Needlework (London, 1842)